News Archive 2016
APAM dispose of King's Lynn Retail Asset.
20th October 2016
MP Real Estate has advised APAM, the UK real estate asset & investment manager, on the disposal of a freehold high street retail investment in High Street, King's Lynn.
The property is prominently located towards the end of High Street, opposite Debenhams Department Store.
Let to local retailer, Artertons', until 2026, the property appealed to a number of private investors.
Artertons' have been in occupation since 1995.
MP Real Estate advised the vendor and Poyntons represented the private purchaser.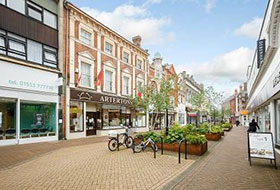 ---
Huntingdonshire District Council acquires Sudbury retail warehouse park.
1st October 2016
MP Real Estate has advised Huntingdonshire District Council on the £6.5m acquisition of Shawlands Retail Park, Newton Road, Sudbury.
Located in the affluent Suffolk town, Shawlands is the only retail park in Sudbury and provides seven purpose-built units extending to 35,289 sq ft.
The tenants represented on the park are Carpetright, Halfords, Pets at Home, Farmfoods, Topps Tiles, Poundland and KFC.
The multi-let nature of the park, modest rents of £14.50 per sq ft and relatively long leases will provide the District Council with good long term growth prospects and an income return in excess of 7%.
MP Real Estate advised the purchaser and Savills represented the vendor, Standard Life Investments.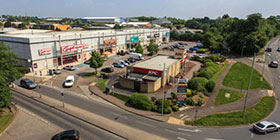 ---
ALDI opens 3rd Store in Colchester.
22nd September 2016
Aldi have opened a 3rd store in Colchester at Colne View Retail Park on Cowdray Avenue.
Aldi have entered into a new 20 year lease on the unit which was refurbished and extended by the landlord, BBC Pension Trust Ltd c/o Orchard Street Investment Management LLP, to provide a gross internal floor area of 19,698 sq ft.
Colne View is a popular and well established Retail Park located North of Colchester Town Centre and fronts the A133 Cowdray Avenue. The Retail Park benefits from unrestricted Open A1 (food) with other tenants including Pets at Home, Halfords and DFS. Parking for the store would be provided by the existing 310 spaces at the retail park.
George Eddy, Asset Manager at Orchard Street, commented:
"We consider that this letting to ALDI reflects the high quality nature of retail accommodation at Colne View. The diverse range of tenants are highly complementary, with each retailer benefitting from footfall created by neighbouring stores. We expect ALDI's arrival to further enhance the retail offer at this park."
Aldi already has stores in Magdalen Street, Colchester, and London Road, Stanway.
Edgerley Simpson Howe advised Orchard Street Investment Management LLP. MP Real Estate acted for Aldi.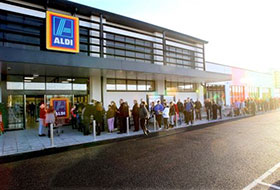 ---
ALDI to relocate to larger store at Rosehill Centre, Ipswich.
21st July 2016
Aldi are to relocate into a new and larger purpose built store forming part of The East of England Co-Op's £4million refurbishment and extension of the Rosehill Centre on the Felixstowe Road in Ipswich.
The existing Co-Op Daily food store will remain in its current location, with Aldi moving into a new purpose built unit on the site. In addition a further two retail units and a café will be provided along with parking for over 160 cars.
Nick Denny, Joint Chief Executive of the East of England Co-Op said:
"This is an exciting development for us as a business and property developer. A" a local business we're proud to be investing over £4million into this development, working with local contractors and consultants, creating more jobs for local people and providing new services for the local community."
Fenn Wright acted for East of England Co Op. MP Real Estate acted for Aldi.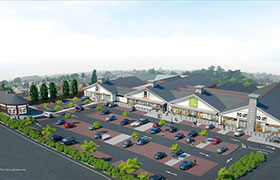 ---
Standard Life invests £15m in Ely Leisure Village project.
26th April 2016
MP Real Estate has advised Standard Life Investments on the £15.7m funding of Ely Leisure Village.
Turnstone Estates are the developer of the 47,000 sq ft scheme which will include a six- screen Cineworld as well as four restaurants, two drive-thru and three stand alone restaurant units together with 380 car parking spaces.
In addition to Cineworld, McDonalds, KFC, Costa, Frankie & Benny's and Hungry Horse have already taken leases.
East Cambridgeshire District Council will undertake a second phase of the project to include a swimming and leisure centre which will further enhance the area as a major leisure destination.
Sandy Pringle, Fund Manager at Standard Life Investments, acting on behalf of a segregated client, commented: "Ely Leisure Village will deliver a fantastic new leisure scheme for the town, meeting the growing demand for restaurant and leisure facilities in the area. The investment will also provide the Fund with an excellent source of long term income, let to a variety of high quality tenants"
Main contractor RG Carter Projects has started construction work, with completion due in early 2017.
MP Real Estate acted for Standard Life.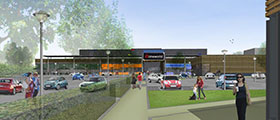 ---
Schroder Real Estate secures planning for Aldi in Norwich.
25th February 2016
Schroder UK Real Estate Fund ("SREF") has secured planning consent to develop a new 18,320 sq ft retail warehouse unit for Aldi at the Hall Road Retail Park in Norwich.
The growing supermarket operator has signed to occupy the new store being created at the 145,751 sq ft retail park alongside Pets at Home, Aldiss, Bennetts and Homebase.
Schroders, which acquired the park in 2011, will commence works this summer to deliver the new store in readiness for Aldi to start fitting the unit out before the end of the year.
Jessica Berney, Head of UK Retail at Schroders said:
"The park's location, on the Norwich ring road, makes it a popular location for major retailers due to its accessibility for customers across the region and we are confident that Aldi will prove a popular addition to the line-up."
"We acquired Hall Road, recognising its potential for further development that would deliver income growth for the fund, both in rental return and asset value, and we are pleased to have been able to respond to tenant appetite by securing consent to extend the park and provide a new store for Aldi."
Roland Stanley, Property Director at ALDI said:
"We are extremely pleased planning consent has been secured in Norwich and look forward to progressing the construction and fit out quickly. ALDI is the UK's fastest growing food retailer and this new store is one of the investments we are making as part of our ongoing store expansion programme."
Edgerley Simpson Howe advised SREF MP Real Estate acted for Aldi.
---
Cambridge City Council acquire Haverhill Retail Park.
24th February 2016
MP Real Estate advised Cambridge City Council in the acquisition of Cambridge Road Retail Park, Haverhill, for £7 million, reflecting a net initial yield of 6.1%.
The property, extending to 39,000 sq ft, is let to B&Q and Halfords.
Cambridge Road Retail Park is located to the north west of the town centre on the A1307 Cambridge Road, immediately adjacent to a Sainsbury's Foodstore of 81,300 sq ft and petrol filling station.
B&Q occupy 35,000 sq ft together with a 10,000 sq ft garden centre at a current rent of £385,625 per annum on a 25 year lease expiring in November 2028. The Halfords unit provides 4,000 sq ft and is let at £54,000 per annum until December 2020. The park benefits from 157 car spaces (1:248 sq ft).
The investment in Cambridge Road Retail Park follows the Council's recent acquisition of the Orchard Park Local Centre in Cambridge, where they were also advised by MP Real Estate.
Both investments were acquired to provide a secure revenue stream which will be used to fund services provided by the City Council.
MP Real Estate advised the purchaser and Harvey Spack Field represented the vendor, Metric Income Plus Limited Partnership.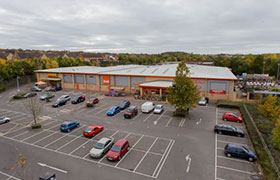 ---
ALDI secure planning for new Huntingdon store.
18th February 2016
Aldi have secured planning permission for a new store on the northern side of the new Huntingdon link road, Edison Bell Way.
The planning permission, which was granted on 18th February 2016 by Huntingdon District Council under their delegated powers, provides for a new Aldi store of 1,774 sq m with 85 car parking spaces on a 1.54 acre site.
Aldi acquired the site from Spen Hill Developments in 2015.
Roland Stanley, Property Director at ALDI said:
"We are extremely pleased planning consent has been secured in Huntingdon and look forward to progressing the construction and fit out quickly. ALDI is the UK's fastest growing food retailer and this new store is one of the investments we are making as part of our ongoing store expansion programme."
Mark Liell LLP advised Spen Hill. MP Real Estate acted for Aldi.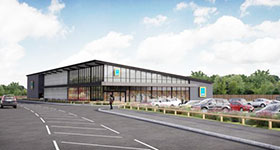 ---
HSBC Bank on Vitrum Building.
1st February 2016
HSBC Bank Plc has committed to remain at The Vitrum Building on St John's Innovation Park.
HSBC has been a tenant in the building since 2005 and has agreed a new 10 year lease at a rent of £25 per sq ft.
The bank intend to fully refurbish the ground floor area to provide meeting rooms and offices and will continue to occupy their first floor accommodation.
The lease extension follows the recent decision by Ultra Electronics to extend their occupational leases by 10 years in June 2014.
The property is asset managed by Orchard Street Investment Management on behalf of a pension fund client.
The refurbishment of the reception area and common parts following the fund's acquisition of the investment has proved popular with tenants who acknowledge the commitment to invest in the building.
MP Real Estate advised Orchard Street Investment Management.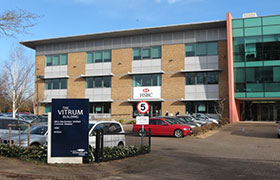 ---
Costa investment acquired in Spalding.
25th January 2016
Acting on behalf of a private investor, MP Real Estate have acquired the freehold investment of number 1/2 Hall Place in Spalding.
The entire property is let to Acca Limited t/a 'Costa' on a 10 year full repairing insuring lease from 13th August 2013 a current rent of £32,500 per annum. The lease has the benefit of a fixed rental uplift to £35,000 per annum from 14th August 2017 as well as an upward only rent review at the 5th year of the term.
Harmer Ray Hoffbrand advised the vendor. MP Real Estate acted for the buyer.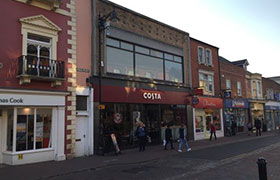 ---