News Archive 2017
Costa sign for Knight Retail Park, Saffron Walden
4th December 2017
Costa are the latest tenants to exchange a pre let at the proposed Knight Retail Park on Thaxted Road in Saffron Walden.
The Knight Retail Park is being developed by Granite Property Developments Ltd and will provide 36,000 sq ft of new modern retail accommodation adjacent to the existing Aldi store which opened in 2015.
Costa will be taking an in line unit of 1,800 sq ft located adjacent to Pets at Home who have already signed for a 6,000 sq ft unit. B&M are taking a 22,000 sq ft store with an external garden centre. One unit of 7,000 sq ft remains available.
Construction is scheduled to commence in early 2018 with completion towards the end of 2018.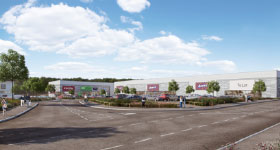 ---
Card Factory and Greggs sign at Gateway Retail Park, Lowestoft
15th November 2017
Card Factory and Greggs are the latest tenants to exchange pre lets at the proposed Gateway Retail Park on Tower Road in Lowestoft.
The site occupies a prominent 'gateway' location fronting the busy roundabout junction of the London Road (A12) with Tower Road to the south of Lowestoft in the Pakefield area. The immediately surrounding area is a well established retail location with B&M, Homebase, Morrisons, McDonalds and Pizza Hut all located close by.
The new retail park is being developed by Freshwater with TPS acting as Development Managers. Card Factory and Greggs are both taking units of 1,500 sq ft. They will be joining Aldi, Costa and The Range who have already exchanged. Two other units are under offer leaving one unit of 10,000 sq ft available.
The site benefits from planning permission for 76,000 sq ft of new build retail warehousing accommodation along with 313 car parking spaces.
Construction is scheduled to commence in early 2018 with completion towards the end of 2018.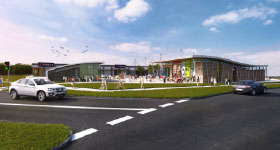 ---
Stane Retail Park, Colchester, application submitted
8th November 2017
The Churchmanor Estates Company plc has applied for planning permission for a 170,000 sq ft retail warehousing scheme which will comprise of new stores for B&Q, Aldi, a Marks & Spencer Food Hall, and 6 additional units aimed at furniture and homeware retailers.
The M&S Food Hall and Aldi will together offer an improved range of food shopping for the residents of Stanway, in addition to the existing Sainsbury's store. B&Q will be relocating from their existing store in the Hythe now that Colchester Borough Council have granted planning permission for Sainsbury's to take their unit.
If planning consent is obtained within the statutory 13 week period in February/March 2018, construction should commence in Spring 2018 with completion in 2019.
Roland Stanley, Aldi Property Director, said: "We have enjoyed welcoming customers from across the Stanway area to our store in Lexden since opening in
2010. As more and more people switch their shopping to Aldi, the existing store and its car park are becoming too small to serve our growing customer base. As well as being more modern, the new store at Stane Retail Park will be almost twice that size and will allow us to welcome even more people to experience Aldi's award-winning offer of brand-like quality at unbeatable prices. All our colleagues working in Lexden will be transferred to the new store and we will also be increasing our staff numbers to approximately 50 personnel."
Overall the scheme is predicted to employ in excess of 300 staff, including approximately 100 transferring from the B&Q store in The Hythe, and the Aldi Store in Lexden.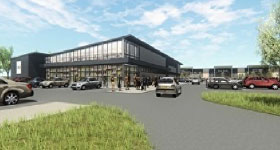 ---
Cambridge City Council acquire Royston Mid-Tech investment from Aberdeen Standard Investments
9th October 2017
Cambridge City Council has acquired a mid-tech high bay warehouse investment in Grantham Close, Royston, from Aberdeen Standard Investments for £6.3m, representing a net initial yield of 6.63%.
The building is occupied by Sartorius Stedim Biotech as their UK R&D/Production facility. The company is involved in the development, manufacture and distribution of automated systems for the life sciences industries. The company's principal product is the development and production of multi-parallel mini bioreactors.
The property extends to 40,500 sq ft and benefits from 211 car parking spaces.
The unit is let to Sartorius Stedim until October 2027 at a current passing rent of £450,000 per annum, subject to review in October 2017.
MP Real Estate advised Cambridge City Council and Bidwells represented Aberdeen Standard Investments.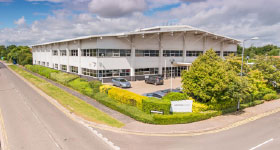 ---
Costa opens at Ely Leisure Village
20th September 2017
Costa have opened a new coffee shop within the recently completed Ely Leisure Village located on the A10 at Downham Road to the west of Ely town centre.
Acca Ltd, who operate 18 existing Costa units under franchise, have entered into a new lease on an 1,800 sq ft 'in line' unit with external seating.
Ely Leisure Village opened in April 2017 and was developed by Cambridge based Turnstone Estates and funded by Standard Life.
The 47,000 sq ft scheme is anchored by a six-screen Cineworld with Frankie & Benny's, Greene King and Arbuckles occupying the in-line restaurant units. McDonalds and KFC occupy the drive-thru's. Within the standalone takeaway building the line-up includes Costa, Chosen Bun and Pizza Hut Delivery.
East Cambridgeshire District Council will undertake a second phase of the project to include a swimming and leisure centre which will further enhance the area as a major leisure destination.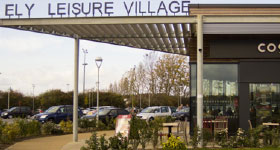 ---
ALDI submit planning for new store in Hertford
30th June 2017
Aldi have submitted a planning application for a for a new store to be built on the site of the existing Which? Offices on Gascoyne Way in Hertford town centre.
The planning application to East Herts District Council (EHDC) is seeking permission for a 18,675 sq ft store with 127 car parking spaces, accessed from Gascoyne Way.
Which? will remain at the site until 2018 and will be relocating to an alternative site. If granted planning permission, the store would open in 2019.
Squarebrook acted for Which? MP Real Estate acted for Aldi.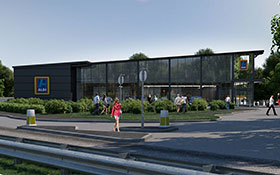 ---
Orchard Street sell Cambridge Vue to Legal & General
1st June 2017
MP Real Estate has advised an institutional client of Orchard Street Investment Management on the sale of the Vue Cinema, Grafton Centre, Cambridge, for £13 million. The purchaser was Legal & General and the price represents a net initial yield of 5.13%.
The 8 screen cinema extends to approximately 32,100 sq ft and has a seating capacity for 1,200 customers. It forms an integral part of The Grafton Shopping Centre, with access to the first floor food court and multi-storey car parks. The centre, extending to 420,000 sq ft, attracts over 10 million visitors a year, and is undergoing a major refurbishment.
The cinema is let to Vue Entertainment Limited on a lease expiring in March 2022 at a current passing rent of £713,477 per annum. The rent is subject to annual fixed increases.
MP Real Estate advised Orchard Street and Bidwells represented Legal & General.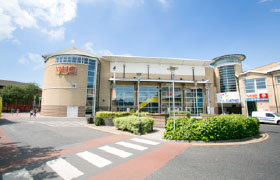 ---
ALDI secure pre let at "Royston Gateway"
10th April 2017
Aldi have signed for a new store to be built within the first phase of "Royston Gateway", a new mixed use development proposed on 30 acres of land located between York Way and the A505 in Royston, Hertfordshire.
A planning application for an Aldi supermarket and an M&S Foodhall has been submitted by Kiafield Properties Ltd to North Herts District Council. Subject to the planning application being approved, both stores will open in late 2018.
The first phase will provide an Aldi store of 18,500 sq ft as well as a M&S Foodhall of 11,076 sq ft and 170 shared parking bays.
The planning application also includes provision of a new junction for the A505 and a new link road to Orchard Road Industrial Estate.
MP Real Estate acted for Aldi.
---
ALDI secure pre let on Chelmsford Retail Park.
21st March 2017
Aldi have signed a pre let for a second store in Chelmsford as part of Aberdeen Asset Management and Exton Estates redevelopment of the 11-acre former Britvic site in Westway, on the edge of the city.
Aldi, along with Marks & Spencer Simply Food who have also signed a pre let, will anchor the 87,065 sq ft retail park.
Aberdeen and Exton bought the site from Chelmsford council in May last year, and construction will complete in November.
Kerri Hunter, fund manager at Aberdeen Asset Management, said: "I'm delighted that our confidence in the occupational market has now been ratified by both M&S Simply Food and Aldi. These are strong anchors and we expect to be able to announce other retailers very soon."
Stockford Anderson acted for Aberdeen Asset Management and Exton Estates.
MP Real Estate acted for Aldi.
---
PlayFusion completes Vitrum makeover
17th March 2017
MP Real Estate has advised an institutional client of Orchard Street Investment Management on the surrender and simultaneous letting of 8,356 sq ft in the Vitrum Building, St John's Innovation Park.
PlayFusion and their subsidiary, Automation Games, have taken a 10 year lease on part 1st and 2nd floors at a rent reflecting £27.00 per sq ft.
Acquired in 2013, Orchard Street has undertaken a refurbishment of the common parts and reception area.
The PlayFusion transaction concludes the lease restructuring within the property, with new leases agreed with Ultra Electronics and HSBC.
MP Real Estate advised Orchard Street in all transactions.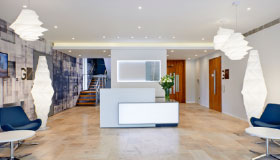 ---
ALDI secure pre let at "Letchworth Gateway"
3rd Feburary 2017
Aldi have exchanged on a pre let for a new store as part of Aberdeen Asset Management's (AAM) mixed use redevelopment proposals to be known as "Letchworth Gateway".
The proposed £16 million development concerns the mixed use regeneration of an old office and warehouse site covering 4.5 acres on the edge of the Letchworth Industrial Area. Plans for the development include a new store for Aldi, a 73 bedroom Travelodge hotel, a McDonald's restaurant with drive-through and a Costa drive-through.
The new Aldi food store will comprise a new store of circa. 18,500 sq ft with 92 car parking spaces and a delivery bay. The new store will generate approximately 40-50 new jobs.
AAM will be submitting planning application in February 2017. If a positive decision is secured, construction will commence in Autumn 2017 with completion scheduled for Autumn 2018.
Lambert Smith Hampton acted for Aberdeen Asset Management. MP Real Estate acted for Aldi.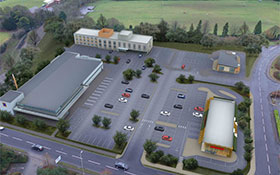 ---
Premier Inn acquire site on Great Yarmouth's 'Golden Mile'
6th January 2017
Premier Inn have exchanged, subject to planning, on the purchase of a site on the South Beach Road for their second hotel in Great Yarmouth.
Premier Inn acquired the site from Pleasure and Leisure Corporation plc which owns Great Yarmouth Pleasure Beach and is the developer behind 'The Edge' – a major new leisure complex for Great Yarmouth providing an extension to the existing Pleasure Beach offering an 8/10 screen multiplex cinema, the 81 bed Premier Inn with a 6,000 sq ft Beefeater restaurant and 5 other branded restaurants in addition to an all year round indoor play area with ample parking for the scheme.
The new Premier Inn Hotel will incorporate a Beefeater restaurant at ground floor and will form the first phase of 'The Edge'.
'The Edge' is being built on a 2.49 hectare coastal brownfield site between Great Yarmouth Pleasure Beach and the town's outer harbour. A landmark gateway building along the Golden Mile, 'The Edge' will be a focal point on Great Yarmouth's skyline and seafront, setting a high standard for entertainment and leisure architecture in the town.
A planning application will be submitted in April 2017 and if approved, construction will start later this year with a mid 2018 opening.
Bidwells advised Pleasure and Leisure Corporation Plc.
MP Real Estate acted for Premier Inn Hotels Ltd.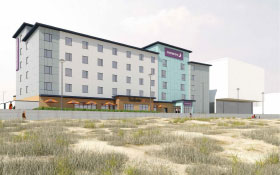 ---
Standard Life exits Peterborough sports facility
31st January 2017
MP Real Estate has advised an institutional client of Standard Life Investments on the surrender of their long leasehold in a purpose built sports facility.
Woodlands Sports Centre, Castor was purpose built in 1989 to provide a 24 acre sports complex, to include Sports Hall, squash courts, gymnasium, tennis courts, bowling green, all-weather floodlit sports pitch and cricket/football pitches.
Surplus to requirements, MP Real Estate, undertook an extensive marketing campaign, identified a purchaser for part of the site and negotiated the surrender of the long lease to Nene Park Trust.
MP Real Estate advised Standard Life.